Who We Are
Meet your proud hosts and lodge owners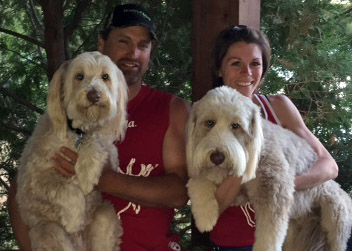 Pat and Chantal have been operating this lodge for over 10 years and have been busy updating their cottages, campgrounds, marina, ... in order to provide their customers (you) with a level of service that is uncompromised. But dont take our word for it. Come and see for yourself. You won't be disappointed!
What We offer
We've got all your needs covered
What People Are Saying
Here are but a few satisfied clients!
We've been coming to this lodge for over 25 years. What makes this camp special are the owners Chantal,Patrick,and Rejeanne.and there continued efforts to make our week a success.

Dave Turner, Hamilton ON

I've been fishing the lake since 1986 and absolutely love the area and nature. From day one at Minakwa Lodge, Pat and Chantal have made my holidays even better. They are very helpful, considerate individuals, and are available when needed. I now come up a few times per year, each time with different people.

John Russell, Hamilton ON

We've been renting a dock at Minakwa Lodge for 16 years. We always receive a warm welcome and efficient service from Patrick, Chantal et Rejeanne. We are completely satisfied and recommend this place to all nature lovers out there!

Ray & Ghyslaine Breton, Timmins ON

My favourite thing about Minakwa Lodge is that everyone is kind and friendly. I always feel welcome by Pat and Chantal. Every year, I get a shirt from Minakwa Lodge and I wear it all year long. Minakwa Lodge has an awesome beach. I love Minakwa Lodge.

Caleigh age 8

I love Peter Pike and his friends that are waiting for me at the boat launch. I feel very peaceful at Minakwa Lodge. I like going to the store and watching the minnows. I like going to the store to buy treats from Chantal. I think Minakwa Lodge is beautiful.

Kian age 6